1801-1890
Information for the resume has been obtained from the Encyclopaedia of New Zealand, The North Shore Local History web site, and the Catholic Encyclopaedia
The first Catholic in New Zealand was a Ballivor man – Thomas Poynton- . He and his wife Mary, whose father was from Wexford, arrived at Hokianga in the north of the north island in 1828, where they set up a store and sawmill. The Hokianga region is famous for Kauri Pines.
New Zealand did not have a diocese or members of the clergy in the early 1800's. For this reason Mary, took their first two children to Sydney to be baptised which necessitated a sea journey of over two thousand miles.Their first daughter, known by her married name – Mrs McDonald – was the first European child born in New Zealand and died in 1902.
As a result of the Poynton's highlighting the lack of Catholic Clergy in New Zealand Mgr. Jean Baptiste François Pompallier, was designated as Apolostic Vicar of Western Oceanica. He arrived in New Zealand at Hokianga with three Marist Brothers in 1838 and said Mass in Thomas Poynton's house.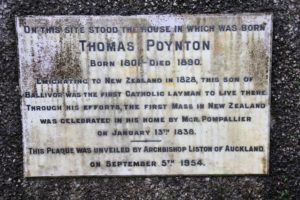 A plaque to record the site in which Thomas Poynton was born is on a low wall at the roadside at Carranstown, Coolroonan about 3 kilometers west of Ballivor.